Bangkok, July 6th, 2022 – AGC VINYTHAI Public Company Limited was successfully established by business integration between AGC Chemicals (Thailand) Co., Ltd. and VINYTHAI Public Company Limited. AGC Chemicals (Thailand) has been a key player in chlor-alkali business for 56 years while VINYTHAI has manufactured caustic soda, PVC and Bio-based Epichlorohydrin for 30 years. The new company, AGC VINYTHAI, becomes much bigger and has increasing efficiency to capture the growing markets in Southeast Asia where the Caustic Soda and PVC markets are expected to grow approximately 4% per year. This business expansion will also strengthen competitiveness and solidify AGC leading position in the chlor-alkali business in Southeast Asia.
Besides business integration, AGC Group planned to enhance the production capacity of its existing manufacturing bases in the region. AGC has recently decided to make the investment which is expected to exceed THB 25 billion for increasing the production capacity of Caustic Soda
and PVC at two manufacturing sites of AGC VINYTHAI in Rayong province, Thailand. This total investment is the largest investment ever made by the AGC Group. The start of operation is scheduled for the 1st quarter of 2025.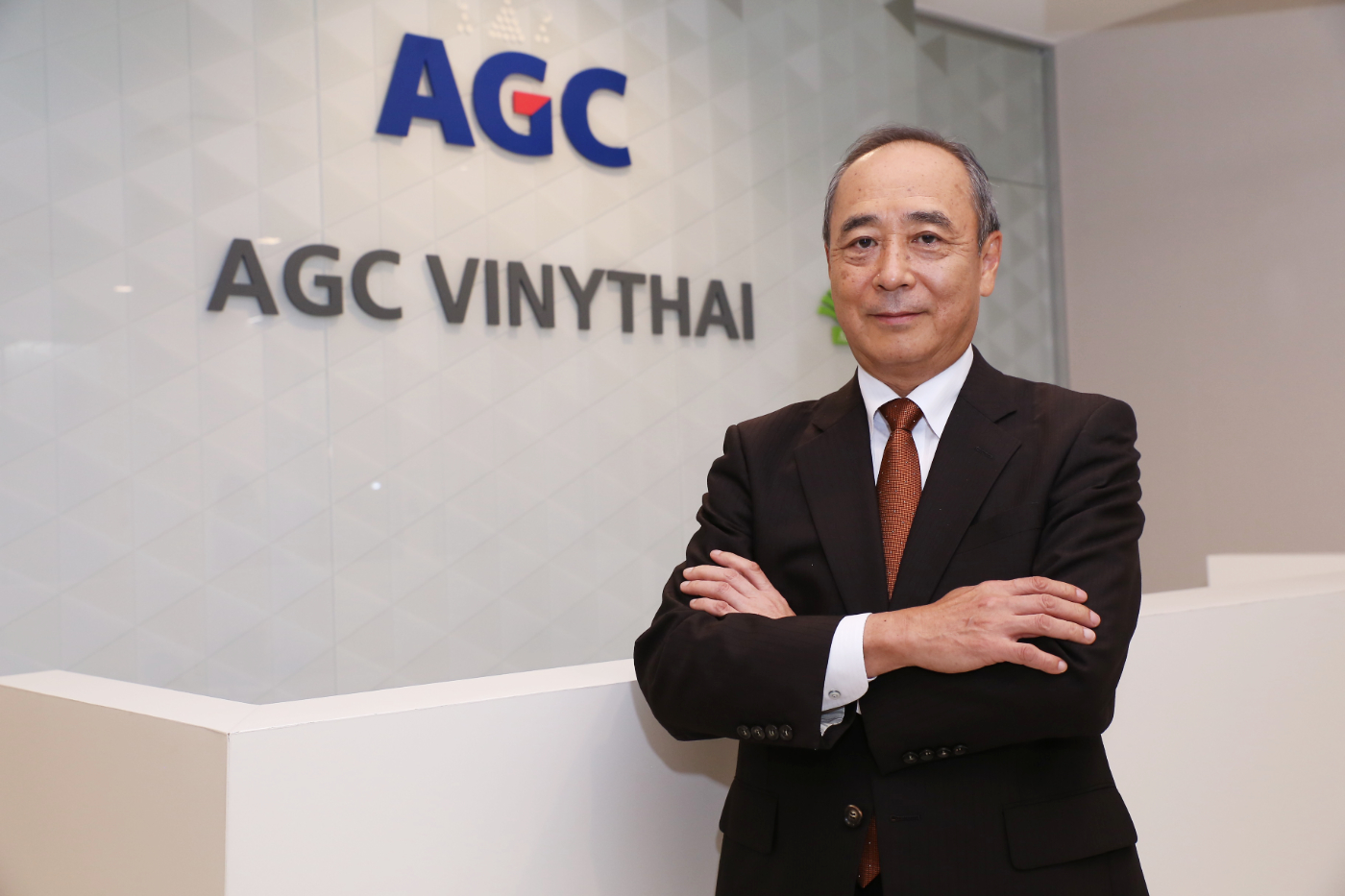 AGC VINYTHAI's production capacity of Caustic Soda and PVC is currently 720,000 tons per year and 450,000 tons per year, respectively. When the expansion is completed in 2025, the capacity will increase to 940,000 tons per year for caustic soda and 850,000 tons per year for PVC. In addition, this capacity expansion will introduce the latest technologies that will improve energy efficiency and production efficiency to reduce environmental impact.
To grow business sustainably, long-term collaboration in raw material supply is very important. AGC has deepened the partnership with PTT Global Chemical Public Company Limited (GC), Thailand's largest integrated petrochemical and refining business and a leading corporation in the Asia-Pacific region, by having GC as one of the major shareholders of the new company.
"AGC VINYTHAI is a manufacturer of basic chemicals and its main products are essential for people's lives, society, and economic development. Our mission is to focus on the growing Southeast Asia, to meet its demand, and to fulfill our supply responsibilities continuously. By executing this mission, we believe to become an excellent company that grows and evolves for
the realization of sustainable society in the future," concluded Mr. Kazuaki Koga, Managing Director of AGC VINYTHAI Public Company Limited.
Profile of AGC VINYTHAI Public Company Limited (As of 1st July, 2022)
(1) Company name: AGC VINYTHAI Public Company Limited
(2) Location of headquarters (plant): Map Ta Phut Industrial Estate, Rayong Province
(3) Ownership ratio:
AGC 70.22%;
PTT Global Chemical Public Company Limited 27.32%;
Other investors 2.46%
Remark: By the end of this year, the ownership ratio will be AGC = 65%, GC=32% and Other investor 3%
(4) Total of sales revenue in 2021 (before integration): THB 33,063 million
(5) Total of operating profit in 2021 (before integration): THB 9,173 million
(6) Founded: 1st July, 2022
(7) Business description:
Production and sale of caustic soda, polyvinyl chloride (PVC),
and bio-based epichlorohydrin, Potassium Hydroxide (KOH),
Hydrochloric Acid (HCl), Potassium Carbonate, Sodium Hypochlorite (NaOCl)
(8) Production capacity of key products:
Caustic soda 720,000 tons a year
PVC 450,000 tons a year
Bio-based epichlorohydrin 120,000 tons a year
(9) Employees:
1,116 employees